Chequing
Chequing services today offer a whole lot more than simply providing the opportunity to pay for goods and services or access funds by writing a cheque. Whether you want basic, no frills chequing or a combination of chequing and other frequently used services, Atlantic Edge Credit Union can satisfy all of your financial needs. We also offer line of credit overdraft protection on approved credit.
Key Features
Save on monthly fees
The monthly fee is waived if you maintain a minimum daily balance in your account during the month on all chequing packages.
Interac
e-Transfers® for everyone

At least one Interac e-Transfer® is now included in every chequing package, with unlimited e-Transfers now included in the Your Chequing Unlimited and Your Chequing Electronic Account.

Unlimited Me-to-Me online transfers with every Chequing Account
Transfer funds to and from your chequing accounts online as much as you like without using any of your included standard transactions.
QuickSwitch your Account
Whether you're planning a trip or renovations on your home, with just a phone call you can quickly and easily switch your spending account to avoid any excess service charges.
What is considered a standard transaction?

All our chequing account packages come with standard transactions as part of the monthly fee. The amount of transactions is highlighted in the name of the account. Performing any one of the following transactions would be considered a standard transaction.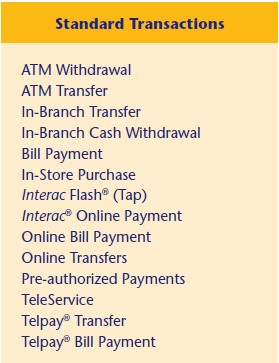 Choosing the right Chequing Account
Each chequing account is designed to complement a specific way of spending money. If you're under 25, or 59+, you can enjoy the same great choices at a discounted price.


Click here to download or print the brochure.
Click here for pricing.